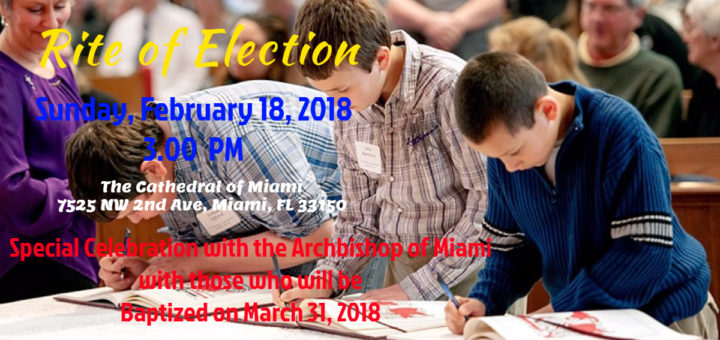 Rite of Election
3:00 PM on Sunday February 18th, 2018 (let you arrive not later than 2:00 PM)
in St. Mary Cathedral 7225 NW 2nd AVE, Miami, Florida 33150
Attendees: For candidates, parents and Godparents (if Godparents are not able to be present, you will need to select somebody who will represent them at the ceremony)
Purpose of this meeting: This Ceremony is very important. On this day the candidates will be personally welcomed by Archbishop Wenski, the Archbishop of Miami. In his presence the candidates will write their names in the Book of the Elected, which is a special book kept at the Cathedral of Miami and symbolizes the Heart of God, the spiritual meaning of this ceremony is that "the candidate's name is now written in the very Heart of God".
Dress Code:
Girls wear a white dress. No gowns, No high hills.
Boys wear black or blue pants with a white shirt and tie. No gowns, No snickers.
Parents and Godparents, formal dress